Order DVDs From MTA

Except for the MOST video , all DVDs available from MTA are $4.95 each (includes s&h within the U.S.) and they may be
freely copied and shared with others. Your purchase helps pay for the production of new videos.
Videos that are available online have a link to the page with that video.
PLEASE DO NOT CALL - WE HAVE NO WAY TO PROCESS PHONE ORDERS

Genesis / Creation DVDs

Other
(shipping, other DVDs & donations)

Men & Dinosaurs this DVD includes two videos. click here to read more

Men & Dinosaurs looks at art from 1000 years ago and shows accurate pictures of dinosaurs, as well as men and dinosaurs together. Shows proof that men and dinosaurs lived together and the story about dinosaurs dying out 65,000,000 ago is false.

Evolution & The Bible looks at scripture and shows that evolution is not compatible with the Bible.

Shipping For Addresses Outside
The U.S., Mexico and Canada

There is no charge for s&h within the U.S., Mexico or Canada. If you are outside the U.S., Mexico and Canada, please use the button below to add $2.95 to help cover the shipping costs (add this only once per order, for any size order).

Online orders are processed through PayPal. You may pay with a credit card or through your PayPal account. See below for info about sending a check.

Men & Dinosaurs (Russian) includes one video: click here to read more

Men & Dinosaurs with voices in Russian. Looks at paintings, drawings, sculpture, tapestry and pottery from 1000 years ago that show accurate depictions of dinosaurs, and people and dinosaurs together.

Evangelism Training Video

(The Four Steps Of) How To Share Your Testimony DVD includes one 25 minute video plus two bonus features.

This video shows how to prepare for sharing your testimony and the three parts that should be included in every testimony used for evangelism.

Age Of The Earth DVD includes three videos. click here to read more

Age Of The Earth examines the evidence supporting the earth being billions of years old vs. thousands of years old. Shows how conclusions supporting billions of years are not correct and that the earth is just thousands of years old.

Also includes "How We See Distant Starlight" and "Is The Bible Circular Reasoning?"

Evangelism Training Video (Russian)

(The Four Steps Of) How To Share Your Testimony DVD includes one 25 minute that has been over-dubbed with Russian voices.

Online ordering for this DVD is not yet available. However, the DVD is complete. We'll get online ordering going as soon as possible.

ORIGINS - Age Of The Earth includes four 25 minute videos produced by the ORIGINS television show. Very high quality. click here to read more

1. Introduction to the R.A.T.E. study
2. Helium Diffusion Rates
3. Radio Halo Studies
4. Carbon 14 Isotopes

Comparing Religions

Diablo Mountain includes a 40 minute video plus two short bonus videos. (What Is Truth? & Knowing False Religions)

Do all religions lead to God? This DVD takes a short look at each of the world's major religions, including Hinduism, Buddhism, Islam, Secular Humanism and Christiaity. It shows that the LORD God of the Bible is the one and only God. read more

ORIGINS - Biology & Evolution includes four 25 minute videos. produced for the ORIGINS TV series. Very high quality and excellent information.: click here to read more

1. Elements Of Our Skin
2. Elements Of Our Hair
3. Lungs & Blood Part 1
4. Lungs & Blood Part 2

Diablo Mountain (Russian) includes the 40 minute Diablo Mountain video over-dubbed with Russian voices.

Do all religions lead to God? We look at Hinduism, Buddhism, Islam, Darwinism and Christianity to find the one true God. read more

ORIGINS TV Series - The Cosmos... Comets... Craters and Starlight includes four 25 minute videos. click here to read more

1. What About Comets?
2. Impact Of Craters
3. Starlight And Time
4. Bonus - Global Warming

Donate:

Please help us make additional videos. Our production budget is typically a few hundred dollars per video. A small donation can go a long way and can make a big difference in improved quality. Click on this button and then enter a donation amount. Thank you!

ORIGINS TV Series - Evolution, The Grand Experiment includes four 25 minute videos. Learn how the theory of evolution does not work and does not explain the world around us.
click here to read more

1. Evolution, The Grand Experiment #1
2. Evolution, The Grand Experiment #2
3. Evolution, The Grand Experiment #3
4. Bonus - Hypercanes

ORDERING INFORMATION:

Use the buttons on this page to place your order online using a credit card or your PayPal account.

DVDs may also be ordered by sending a check for $4.95 per DVD (plus $2.95 s&h for orders outside of the U.S., Canada and Mexico) to:

Move To Assurance
P.O. Box 974
Tualatin, OR 97062

ORIGINS TV Series - Geological Evidence For The Worldwide Flood has four 25 minute videos. Shows the geological evidence proving there was a world-wide flood just a few thousand years ago. click here to read more

1. Geological Evidence For Noah's Flood #1
2. Geological Evidence For Noah's Flood #2
3. Geological Evidence For Noah's Flood #3
4. Bonus - The Big Freeze
---
MOST The Movie
The following is not an MTA video. It may not be copied. We offer this video because it is one of the best evangelism tools we've seen for opening the door to a conversation about Jesus and salvation.
MOST means "bridge" in Czech. It tells the story of a bridge tender and his son. One day the father takes his son to work with him. The drawbridge is open. The son tries to help his father but falls into the gears used to lower the bridge. A train
loaded with passengers is coming onto the bridge. The father must decide between saving all of the people on the train or saving his son. This video is extremely well done and makes an excellent conversation starter for talking about the gospel. This DVD is in Czech with English, Russian, German, & Spanish subtitles. Closed Captioned in English, Czech, German and Spanish.
About 28 minutes in length.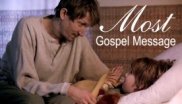 While supplies last we will include five copies of a gospel tract Move To Assurance has created to go with the MOST video. This tract is available in English or Russian. Tracts are available on a first come, first served basis. Please note: we have run out of the MOST tract.
The MOST DVD was not produced by Move To Assurance. It is copyrighted and may not be copied.
DVD Is SOLD OUT
The MOST DVD is available for $10.00 within North America and $15.00(US) outside North America. (Includes First Class Mail shipping.) You may purchase using PayPal (below) or by sending a check or money order, along with your name and postal shipping address to:
Move To Assurance, P.O. Box 974, Tualatin, OR 97062