---
MEN & DINOSAURS DVD
"I got and watched these videos: MEN AND DINOSAUR, DIABLO MOUNTAIN, THE AGE OF THE EARTH. God bless. I need more." - Peter
MEN & DINOSAURS - Two videos are included on this DVD.
"Men & Dinosaurs" takes a look at art created 1000 years ago that shows accurate drawings of dinosaurs. Drawings that could only have been made by spomeone who hads seen a living dinosaur. There is also art that shows men and dinosaurs living together and interacting.
The truth is that dinosaurs didn't become extinct 65 million years ago. They were made by God on day six of creation and lived with mankind for thousands of years. (Watch the Men And Dinosaurs video online.)
The second video, "Evolution & The Bible," looks at scripture from the New Testiment, including the words of Jesus, that confirms Genesis chapters 1 thru 11 as being a true and accurate history. It shows that it is not reasonable to believe that both the Bible is true and evolution is true. (Watch the Evolution And The Bible video online.)
"I've always had questions. From the Bible it seemed people and dinosaurs would be living together but everyone was saying dinosaurs died 65,000,000 years ago. Your video cleared up all my questions and doubts." - Mike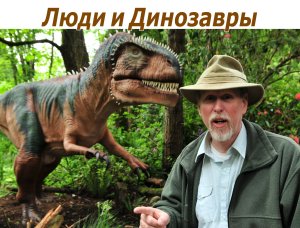 The Men & Dinosaurs video is also available in Russian, with the narration dubbed in Russian. The "Evolution And The Bible" video has not yet been translated to Russian, and is not included.
Each of our DVDs may be freely copied, given away and shared with others.
To order please send $4.95 per DVD to the address below, or use the order buttons::
Move To Assurance
P.O. Box 974
Tualatin, OR 97062

English Version

Russian Version

$2.95 s&h outside the U.S.
The above price includes First Class Mail shipping within North America. Outside North America please add $3.00(US) to cover additional shipping costs - thank you.

You are welcome to copy the above DVDs and share them with others. Graphics for printing the image an the DVD are available for downloading. Click here: MTA DVD graphics.
---
Please support us in our efforts to improve our video production. We need help getting a camera, lighting, software and other equipment.